Sure, most of us have cell phones and we can make and take calls from anywhere already. But what if…
you do not want to give out your cell number and you want people to call you at your deskphone;
you only want to deal with one voicemail box;
someone calls you on your landline and you are out of the office and you need to take the call;
you want to make calls from your mobile phone using your phone system at the office to make the call;
you want to save money on mobile call minutes or mobile long distance charges.
If you are curious about any of the above what-ifs then you will be interested in one-X Mobile. one-X Mobile is an app on your Android or Apple phone that will connect back to your phone system over the Internet for enterprise dialling, voicemail, instant messaging, contact list, presence information, rich conference controls, Geo-location presence and tracking using the on-board GPS of the mobile phone and call history.
one-X Mobile is a spin off of one-X Portal. one-X Portal is a web interface that gives you call control and telephony settings from your PC. So in the web interface you will see call history, have voicemail control, view contacts information, dial phones, park/unpark calls, take part or setup a conference call, and so on.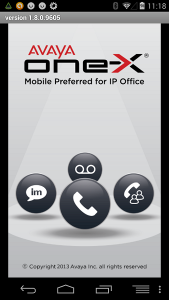 one-X Portal does not replace your deskphone; for that you can use Avaya Communicator with a PC and a headset.

If you are interested in a demonstration give us a call and talk to our knowledgeable sales staff. Here's an idea: have the meeting at your location and the salesperson can demonstrate one-X mobile while away from the office.
Contact us about your phone system questions.