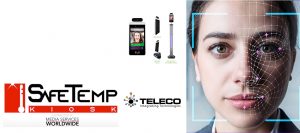 June 2020
Contactless Temperature Scanner Keeps
Employees Safe
Temperature Scanner
Welcome back employees and customers with this Contactless temperature scanner. Ideal for entry points and can be installed on your network to alert key personnel, as well as integrate with door locks to allow or not allow entry. It can also be used for employee records as it has facial recognition that also works when employees are wearing a face mask. Units can be wall, desk or pedestal mounted, and an optional unit with hand sanitizer is available. Protect employees and encourage your customers to return.
---
TELECO Empowers Companies to Combat COVID-19 with an Innovative Approach
Teleco, a leading managed technology services provider (MTSP) is empowering business owners to accelerate innovation within their companies through Microsoft's new software, Teams. Microsoft Teams is a tool that dramatically enhances every employee's ability to collaborate by integrating the functions of chat, meetings, calls and collaboration into a single platform. With the recent outbreak of COVID-19, mandatory precautions have forced small to mid-sized businesses (SMBs) across the country to innovate after being thrust into an immediate need to keep their
operations running, remotely. Teleco is proactively helping customers transition their staff to a remote workforce leveraging Microsoft
Teams.
---
Why the Largest Cyberattack in History Will Happen within Six Months
By Stephen McBride
The coronavirus is laying the groundwork for a massive cyberattack. In fact, I'm on record today saying we'll see the largest cyberattack in HISTORY within the next six months.
Nobody is talking about this today. Fighting hackers is the last thing on most folks' minds. But coronavirus practically guarantees "largest cyberattack ever" will soon be plastered all over the frontpages.
---
Support Local – Dinner, Drinks and Donuts

Had a great evening supporting local businesses and getting Team Teleco together online. Thank you to Eat Local Pizza for the amazing pizzas, Sleeping Giant Brewery for great local beer, and home-made donuts from Donut Run Thunder Bay. Deliveries were made to each home and was followed by fun Zoom Bingo!


TELECO Mission Statement

To integrate leading edge technology that maximizes profitability and efficiency by
exceeding your expectations with our services and making your business, our business.
Visit https://teleco.ca

TELECO
1218 Amber Drive|Thunder Bay|ON, P7B 6M5|807-345-2900